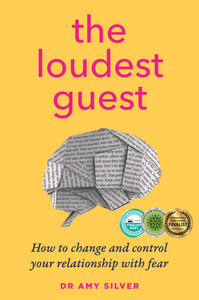 The Loudest Guest
by Dr Amy Silver
978-0-6487964-3-5
Regular price $29.99 Sale
BUY THE EBOOK | BUY THE AUDIOBOOK | READ AN EXTRACT
2021 Career Book of the Year Finalist 
2021 Living Now Book Awards Silver Medallist 
2022 International Book Awards Finalist - Motivational
An award-winning guide to reducing fear and taking control of your life from Amazon bestselling author and renowned psychologist Dr Amy Silver.

When fear looms as the loudest guest in your mind, it dominates your thoughts and controls your choices.

Author and psychologist, Dr Amy Silver, believes that if you reduce the control that fear has on you, you take back control of your life. Fear is merely a guest in your mind, albeit a noisy one, and you are the host.

In The Loudest Guest, you will learn the six essential steps to calm your fear so you can run your best life.

This book is for you if you:
are prone to worrying or over-thinking
desire to do something new but feel you shouldn't or would fail
talk yourself down, either out loud or in your head
know there's a gap between what you're doing and what you could
do if you had more courage
spend too much time thinking about what people think of you
are too 'in your head', full of doubt, regret or indecision.

In this easy-to-read, practical book you'll learn to quieten your fear voice so you can be a more powerful version of yourself.
PRAISE FOR THE LOUDEST GUEST
'Amy's ability to help people understand, rather than avoid fear is unsurpassed. Her stories and real-life examples resonate so deeply and provide a context for fear that makes it less... well... scary.' 

Adam Voight, Founder of Real Schools and Real Learners, Author, Speaker, Mentor
'When we move out of the control of fear, we step into a hopeful future. I don't think there's anyone that this book isn't written for.'

Gordon Botwright, CEO (Vic), St John Ambulance
'In this incredible book, Dr Amy Silver outlines practical everyday ways we can manage fear and anxiety.'
Winitha Bonney, Thought Leader in advancing People of Colour