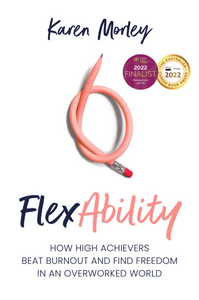 FlexAbility
by Karen Morley
9781922611246
Regular price $29.99 Sale
READ AN EXTRACT | BUY THE EBOOK
2022 Australian Business Book Awards Finalist - Management and HR
A comprehensive, coach-yourself guide for busy, burnt-out leaders to take back control of flexible working arrangements and find balance in an overworked world.
Despite the promise of a post-pandemic 'reset' that would make flexible work practices mainstream, it seems that overwork is here to stay.
According to leading executive coach and psychologist, Dr Karen Morley, overwork is driven by ambitious, competitive and over-confident bosses who chase continuous growth and are prepared to sacrifice their own health and wellbeing, and that of their workforce, to achieve increasingly unrealistic targets. Remote work or not, this hasn't changed.
High achieving, conscientious and agreeable leaders, the lifeblood of organisational success, get caught in the slipstream. In a world where overwork remains an expectation, flexible work has not been the solution we had all been hoping for. Rather, it has just blurred the boundaries between personal and professional life.
It's time to take better control of why and how you work – a concept the author refers to as 'flexAbility'. Flexibility is how the system operates, flexAbility is how you operate yourself in this demanding system.
FlexAbility is a comprehensive guide to taking back control and redefining your approach to work. It's about rediscovering why you do what you do and where work fits into your sense of purpose, so you can better align your work practices to suit your life.
PRAISE FOR FLEXABILITY
'This book is a must-read, with great examples, thought-provoking analysis and practical strategies that help leaders to 'reset' and thrive at work.'
Brooke Young, Director, Young Consulting Group

'Refreshingly practical and gently encouraging, FlexAbility is a must-read for any leader looking for a pragmatic, reassuring, positive and immediately executable playbook for everyday success.'
Amanda Kramer, Head of Marketing, Homely.com.au

'FlexAbility couldn't be arriving at a better time for so many in our communities.' 
Mike Schneider, Chair, Love Me Love You; Board Member, Corporate
Mental Health Alliance Australia; Managing Director, Bunnings Group
'This is such a relevant and helpful guide to 2022 and beyond!' 
Duncan Phillips, Chief Executive UK & Ireland, IVC Evidensia
'In this hyper-relevant book for today's world of work, FlexAbility provides high-performing leaders with a comprehensive and pragmatic guide to protecting wellbeing by learning to influence what matters most.'
Dr Kelly Windle, Vice-President Organisation Capability, Bluescope