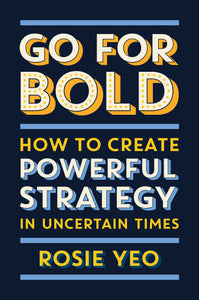 Go For Bold
by Rosie Yeo
9781922611307
Regular price $29.99 Sale
BUY THE EBOOK | READ AN EXTRACT

Achieve the best possible future for your organisation with this winning approach to designing simple and powerful strategy.

Have you ever heard anyone say that their last strategy planning day was their best day ever? Of course you haven't. We all know strategy is important, but it's not easy to come up with the fresh ideas needed for success, let alone bring them to life.

Uncertainty about the future, the pressure of competition, risk aversion and those boring planning meetings we're forced to sit through sap our confidence and enthusiasm and produce timid templates for maintaining status quo.

In Go For Bold, leading strategist Rosie Yeo offers a refreshing approach to designing powerful strategy in uncertain times.

A practical and inspiring guide for leaders, aspiring leaders and anyone who needs a future plan, this book shows how to harness a team's innate creativity to bring to life bold, long-term strategy.


PRAISE FOR GO FOR BOLD
'In business, the only way to stand out is to be bold. Rosie has written a book that is a guide to big-thinking but committed execution.'
Naomi Simson, entrepreneur
'In this compelling book, Rosie Yeo reminds us of why strategy days often fall short of expectations and systematically provides us with a practical roadmap for ensuring our work in developing strategy is bold, inclusive and impactful.'
Dr David Cooke, Adjunct Professor, UTS Business School; Chair, UN Global Compact Network Australia; Director, ESG Advisory

'A must-read for anyone wanting to move beyond their traditional approach to strategy and reset their processes for a future of dynamic strategic planning.'
Carolyn Miller, advertising and communications strategist; Gruen panellist; Director/Founder, The Honeycomb Effect
'It has been my experience that strategic planning and the successful execution of those plans too often fall short of both expectation and what is possible. This book, full of real-world examples, will assist any senior executive contemplating better strategic planning for their enterprise.'
Major General (Ret'd) Duncan Lewis AO DSC CSC, Chair, Painaustralia; Former Director-General, Australian Security Intelligence Organisation; Former Secretary, Department of Defence
'Go for Bold provides a wealth of real-life stories and quality advice for leaders in how best to fulfil their roles in developing or reviewing strategy. An entertaining and thought-provoking read for every Board Chair, Director and organisational leader.'
Wendy Machin, Non-executive Director (Heritage Bank, Golf Australia) and Chair (Reflections Holiday Parks); Former President, NRMA; Chair, Customer Owned Banking Association (COBA); NSW Minister for Consumer Affairs