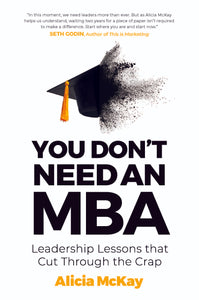 You Don't Need an MBA
by Alicia McKay
978-0-6489803-4-6
Regular price $29.99 Sale
'In this moment, we need leaders more than ever. But, as Alicia McKay helps us understand, waiting two years for a piece of paper isn't required to make a difference. Start where you are and start now.' 
SETH GODIN, author of This is Marketing


MBAs are old news. In this ground-breaking book, leadership expert Alicia McKay teaches leaders to focus on the things they don't teach you at business school.
Leaders are made, not born. But they are not made in the lecture halls and seminar rooms; you don't need an MBA to be an effective leader.
They need to get smart, be strategic about the next step and expand their range, to face a complex and uncertain future. They need paradox: clear values and open minds, high performance and meaningful space, dedication to detail and big picture perspective. They need to ask different questions, design different options and most of all, they need to do that with others on the same journey.
In this thought-provoking book, Alicia McKay teaches you the five skills every strategic leader needs:
How to develop true flexibility
How to make good decisions
How to develop powerful systems
How to drive real performance
How to have meaningful influence 
Drawing on the latest global thinking on leadership, You Don't Need an MBA uses Plain English to demystify the skills leaders of the future need and outlines a way forward; united leadership that focuses on real outcomes, not quick-fixes.
Praise for You Don't Need an MBA
'Credit belongs to Alicia because she is actually in the arena. Read this book if you want a down-to-earth, what-really-works guide to leadership.'
Greg McKeown, author of Essentialism
'Accessible, quirky, moving, funny and, above all, practical and applicable. If you are in leadership, or aspire to be, this book should be at the very top of your list of recommended reading.'
Peter Cook, author of Implement!
'Read this book and grow… or don't, and become slowly irrelevant. It should be an easy choice to make.'
Colin D. Ellis, author of
Culture Hacks