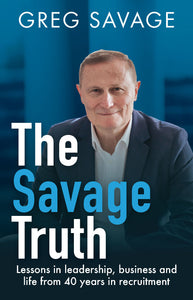 The Savage Truth
by Greg Savage
9780648515975
Regular price $34.99 Sale
For a limited time you can buy Greg's new book RECRUIT and The Savage Truth for the special price of $55.
INTERNATIONAL BESTSELLER WITH 10,000 COPIES SOLD
The Savage Truth is the story of Greg Savage, his stellar career in recruitment and the lessons he has learned on leadership, business and life over a career spanning four decades.
The Savage Truth is a must-read for next generation leaders and lovers of business biography. It's a book in two parts.
The first part covers Greg's early life – the people and events that shaped him – and follows his career path, which took him from his hometown of Cape Town around the world before settling in Sydney. He gives an honest, open, often humorous account of his experiences, which reflect how much business has changed over the past 40 years.
In the second part of the book, Greg distils his learnings into guidance and advice for his successors in the recruitment industry and, more broadly, to anyone working in business. He covers topics including building a personal brand, negotiating fees and margins, people leverage, performance management, 'Savage' leadership skills and preparing for exit towards the end of your career.
Throughout his fascinating career, Greg has learned countless lessons in leadership, business and in life. One of his greatest achievements is his success as a communicator. Greg is one of the most highly respected voices across the global recruitment and professional services industries, speaking regularly to audiences around the world.
An early adopter of social media for recruiters, Greg's industry blog, The Savage Truth, is a must-read in the recruitment industry. In November 2018, he was named one of LinkedIn's 'Top Voices'.