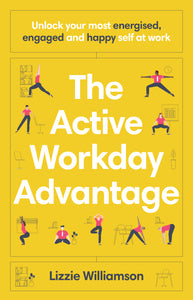 The Active Workday Advantage: Unlock your most energised, engaged and happy self at work
by Lizzie Williamson
9781922611932
Regular price $32.99 Sale
Out 30th January - pre-order your copy now
Move more and find a happier, healthier, more productive you.
After a long day of sitting at work, your body aches, you have no energy, you're drained of creativity and your mood has hit rock bottom. But that's just part of your job, right? Wrong! It doesn't have to be that way.
The Active Workday Advantage will educate and inspire you to incorporate micro moves – small and powerful moments of movement – into your daily routine. Follow the suggestions in this fun and motivating book and you'll:
boost your energy levels
improve your strength and flexibility
keep your attention switched on
spark your creativity
reboot your brain for peak performance.
With easy-to-follow, research-based suggestions for low-effort ways to move more and feel better, workplace wellness expert Lizzie Williamson empowers you to change your perspective on exercise, prioritise active habits and take control of your physical and mental wellbeing at work.
Praise for The Active Workday Advantage
'Lizzie's new book provides the inspiration we all need to build movement into our day, as well as the evidence-based tools to make it happen. Her motivational writing really encourages you to move to be your best, most productive self.' 
Sophie Scott OAM, associate professor (adjunct), writer and speaker on emotional wellbeing
'This book is not just a critique of the current system, but a practical guide to revolutionising our work lives. It's a must-read for anyone who believes in the possibility of a healthier, happier, and more productive workplace.' 
Chelsea Pottenger, Founder and Director, EQ Minds
'As someone who has suffered the consequences of bad posture and a decade of remote working, I only have one wish: that this book had come out twenty years ago. Read it. Practice it. Reinvent yourself.'
Phil Mershon, director of experience at Social Media Examiner and author of Unforgettable: The art and science of creating memorable experiences
'This book is a breath of fresh air in the world of personal development. I found the motivation elixirs a great way to ignite your inner drive! It's all the motivation you need to live your most effervescent and supercharged life!'
Lee Holmes, clinical nutritionist and author of ten books, including Supercharged Food
'Lizzie transformed how I blend my workouts and workday, bought joy back into my fitness breaks and helped me to come home to my body. A remedy to hustle culture, which every organisation and individual will benefit from following. I'll be gifting it to my friends and clients.'
Amy Molloy, editor and author of The World is a Nice Place: How to overcome adversity, joyfully
'As a self-confessed lazy desk lump, I loved these straightforward, doable ideas on how to create more movement in my everyday. Now, where did I put my leg warmers?'
Kate Toon, entrepreneur and author of Six Figures in School Hours
'This book provides doable tasks. When something is doable, it is achievable daily and then it becomes a lifetime habit. Lizzie creates fun, loving movement in a busy workday, adding exercise, movement and flexibility to help our overall wellbeing – mentally and physically.'
Michele Chevalley Hedge, international wellbeing author and presenter on positive psychology and nutritional medicine
'In a world flooded with self-help and wellness books, Lizzie Williamson's book stands out as a total breath of fresh air. It's not just another generic guide to living a healthier life; it's a treasure trove of innovative ideas and practical advice that can truly transform your relationship with the sedentary nature of work and life.'
Yasmin London, director of Digital Resilience, APAC, at Linewize
'Want to work happier and live longer? The Active Workday Advantage is a superb collection of small acts that will transform how you work forever.'
Phil Hayes-St Clair, Partnership Expert, CEO, and Host of The Partnership+ Podcast
'As someone who has experienced workplace burnout, I can confidently say that this book is a secret weapon for achieving a thriving career and a fulfilling life.'
Jessica Hickman, author of The Upstander Leader: How to develop a speak-up culture and founder of Bullyology