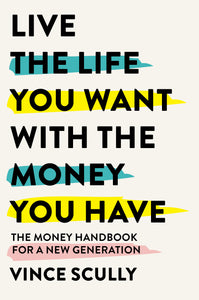 Live the Life You Want With the Money You Have
by Vince Scully
9781922611345
Regular price $32.99 Sale
READ AN EXTRACT | BUY THE EBOOK
The must-have financial handbook that will teach a new generation of Australians how to do money.
'Cut out your morning latte and you can be rich!' It's a popular view – but it's hopelessly inaccurate.
The truth is, it's not your morning coffee that's keeping you out of the housing market or preventing you from building long-term financial security.
As a nation, we've never earned as much, owned as much, or been so highly educated, and yet millennials struggle with money more than any previous generation. Why?
Because the old rules just don't work anymore.
In Live the Life You Want With the Money You Have, Vince Scully, the founder of Australia's first online financial planner Life Sherpa, shows you 8 simple steps to financial freedom that anyone can start right away, no matter how much money they have or how much debt they're in.
Learn how to review your spending habits, build an emergency stash, pay off your debts, choose the right insurance, understand super, save up for your first home and make investments – all while feeling free to enjoy your life.
If you have ever thought:
'I make a good living; how come I don't have anything to show for it?'
'I'll never be able to afford a house of my own'?
'Retirement seems so far away; I just can't think about my super'?
'Money is just too complicated; I can't make a decision'?
'Why does this money stuff all have to be such hard work?'
'I'm only 30; do I really need to think about all this stuff right now?'
Then this is the book is for you.