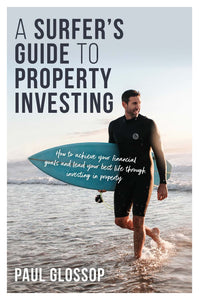 A Surfer's Guide to Property Investing
by Paul Glossop
9780648410058
Regular price $29.95 $29.99 Sale
A Surfer's Guide to Property Investing is about how to achieve your financial goals and lead your best life through investing in property.
Download the first chapter FREE!
"Paul replaces confusion with confidence in all facets of investing in property and how to set your own life goals. You must read this book from cover to cover."
Aaron Christie-David, Managing Director, Atelier Wealth

"An inspirational story of how to achieve success in property investment. It is targeted to both first time and seasoned investors and those looking for the courage to take the first steps into the world of property investment."
Alex Veljancevski, Principal Eventus Financial

"Whether you surf or not, Paul's story as a property-investor-turned-property-professional is a great read. Draw on his story as you shape your own journey through property… you'll find your perfect wave."
Phil Tarrant, Managing Director, Momentum Media
Paul Glossop believes the mark of financial success isn't about getting bigger, better, faster or more. To him, success is freedom – freedom to spend more time with his family, or giving back to his community, or just more time to go surfing.
Paul initially studied architecture before transferring his focus to education. He started working as a teacher in one of the roughest, toughest schools in the UK. A series of fortunate events brought him back to Sydney where over 10 years investing in property, Paul amassed a portfolio which has been focused on capital growth, development opportunities and cash flow. The success of his portfolio gave Paul the financial freedom to take a calculated risk to walk away from a successful corporate career and start something that he was truly passionate about: helping his family and others change their lives through investing in property.