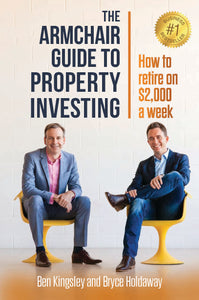 The Armchair Guide to Property Investing
by Ben Kingsley and Bryce Holdaway
9780994256041
Regular price $32.99 $32.99 Sale
Download the first chapter free!
"This book is one of the best property investment books I have read. It's simple to follow and comes across very balanced. There is loads of very good advice with steps to guide me so I feel very prepared to invest in property!"

"I'd put this book alongside Robert Kiyosaki's Rich Dad, Poor Dad as one of the best books on property investing I've read. Fantastic!"
You may be surprised to learn that according to property experts Ben Kingsley and Bryce Holdaway, you don't need to accumulate a 10+ property portfolio to create a $2,000 passive income in your retirement. And you'll only need to spend approximately 10 hours per property a year managing your portfolio when you have everything in place. Sound easy? Well, that's why it's the 'armchair' guide. 
The Armchair Guide to Property Investing is a comprehensive guide to the fundamentals of money management, risk assessment, and picking a winning property that gives readers a full toolkit to be a successful property investor. The authors also share 18 investment strategies that in their vast experience have worked for hundreds of their clients – and themselves – over the years.
There are insightful case studies featuring six very different investors – a young single, a couple who started investing early, a couple who left it a bit late, a single parent and a couple with no kids – all built portfolios which will deliver $2,000 a week in retirement income!
Follow Ben and Bryce's phenomenally successful podcast The Property Couch.