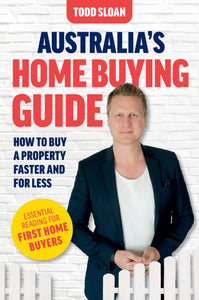 Australia's Home Buying Guide
by Todd Sloan
978-0-6489804-9-0
Regular price $29.99 Sale
BUY THE EBOOK | READ AN EXTRACT
A must-read, practical insider's guide for all Australian home buyers.  
Whether you're buying your first home, your next home or your forever home, the proven process shared throughout this book will be an invaluable guide.
Award-winning real estate agent and popular podcaster Todd Sloan speaks with hundreds of people each week and their objectives are always the same: they want to find and purchase the right property quickly and for a good price.
Sharing insider tips and tricks that selling agents wouldn't normally disclose, Australia's Home Buying Guide is an insightful, practical and fun guide that takes the stress out of buying a home.
It covers common pitfalls and traps buyers should watch out for when they're at the start of their search, such as:
How to make sure you get your finances approved correctly.
How to get the best deal on your loan and potentially save thousands of dollars.
How to find the right area for you and your family (if you have one).
What questions to ask the agent to give you a competitive edge.
How to read a selling agent's tricks and potentially save stacks of cash.
Todd Sloan has a genuine passion for helping people during what is often a scary and stressful process, and he brings a unique and useful insider's perspective on how to buy property in this must-read guide for home buyers.