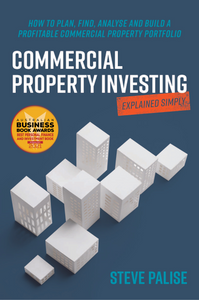 Commercial Property Investing Explained Simply
by Steve Palise
9780648796411
Regular price $34.99 Sale
BUY THE EBOOK | READ AN EXTRACT 
FINALIST - Best Personal Finance and Investment Book at the 2021 Business Book Awards
The most comprehensive guide to planning, finding, analysing and building a profitable Commercial Property portfolio in Australia.
Steve Palise is an expert in commercial property who has executed more than 1,500 property acquisitions and acquiring hundreds of commercial properties for himself and his clients.
Commercial Property Investing Explained Simply breaks down the types of commercial property investors can choose from - it's not just about retail and office property, but warehouses and industrial property can be remarkably resilient and offer good returns.

The author discusses how to find the best commercial property for you, crunch the numbers, do the due diligence, find and manage tenants and much, much more. There is even a chapter on surviving a downturn.

Steve Palise uses his analytical skills to break down what works best in commercial property. His philosophy is that your investments should increase your wealth and passive income with as little risk as possible. With his straightforward and positive attitude, Steve believes property investing should be not only smart, but also fun!
'At last, a comprehensive guide to commercial property by an undisputed expert in this area.' Adrian Butera, MD, Compton Green Real Estate
Other books by Steve Palise