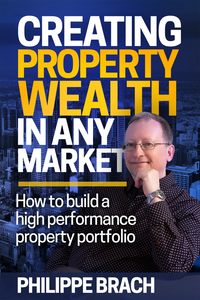 Creating Property Wealth in Any Market
by Philippe Brach
9780994545206
Regular price $29.99 Sale
Philippe Brach always says, "Never take advice about property from someone who does not own property". An avid and successful investor himself and CEO of Multifocus, Philippe shares his proven strategies for success when profiting from property in this invaluable book for investors.
In Creating Property Wealth in any Market, Philippe explains the four simple stages of property success – planning, acquisition, transition and drawdown – and shares the pitfalls you need to be aware of in order to move forward and maximise your wealth. From mastering your budget and getting a financial education, to defining your investment strategy, designing your ultimate property portfolio and finding proven property performers to grow your wealth, Philippe leaves no stone unturned. 
Interwoven with personal stories of real client successes and setbacks, it's an inspiring read that has been broken down into simple steps that almost anyone can follow along.