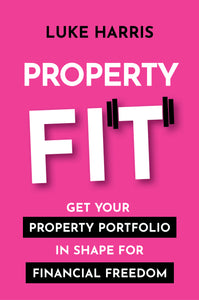 Property Fit
by Luke Harris
9781922611161
Regular price $29.99 Sale
BUY THE EBOOK | READ AN EXTRACT
In this easy-to-read book, experienced Australian property investor and entrepreneur, Luke Harris, shares his proven strategies and mentor tips to help new and experienced investors achieve financial freedom through property.
As with any fitness program, you don't run a marathon if you've only just started jogging and you don't begin weight training by lifting 30kg dumb bells. There's a process to getting into shape and achieving peak performance. There are also multiple ways to keep fit, through a variety of sports or exercise programs.
Investing in property is the same. You need to start by learning how other people invest - including the mistakes they make. You have to find a team of experts (your 'trainers'), do some self-assessment (your fitness test) and then start to look at how you will achieve your property investing goals.
Property Fit assists you with all of this. Experienced property investor and entrepreneur, Luke Harris, takes you through the groundwork you need to cover before you start investing. Then he explores all the ways to invest in property to help you find a strategy that will lead to the ultimate goal of financial freedom.
This easy-to-read, practical book includes mentor tips and mindset insights, as well as proven strategies that seasoned investors, or those just starting out in property, will find invaluable.
PRAISE FOR PROPERTY FIT
'A comprehensive guide to property investment in Australia that is BS free. This book is a must for anyone looking to build wealth through property.'
Paul Benson, CEO and founder Guidance Financial Advice, author and host of Financial Autonomy book and podcast

'Whether you're buying your first home or an investment property, you need to have a good appreciation of the value of time and be willing to do the work. If you can do that, then Luke's book gives you the knowledge to execute the rest of your strategy.'
Kate Campbell, How To Money

'Property Fit is comprehensive, easy to understand and clearly and logically goes through each step that a property investor must con-sider before diving in.'
Joanna, member of The Property Mentors

'Property Fit is a good companion to Let's Get Real. It puts readers inside the experienced head of Luke Harris, a property investor and strategist who helps Australians with a passion for property get wise about how to achieve their goals.'
Cindy, member of The Property Mentors