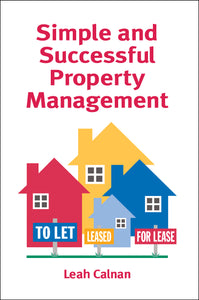 Simple and Successful Property Management
by Leah Calnan
9780987084996
Regular price $29.99 Sale
"Simple, successful property management means finding win–win solutions for property investors and tenants. I love the results I get for investors and watching their investment returns grow – stress-free." 
– Leah Calnan, author
Residential property investors spend hours researching hotspots, visiting properties, selecting loans and negotiating the sales price. Expert property manager, Leah Calnan knows that this is only the beginning. 
To really maximise your returns from investing in property you need to get your property management right. Whether you use a professional property manager or you decide to manage it all yourself, you'll find this book to be an invaluable tool. 
In Simple and Successful Property Management you will learn about:
Marketing the property
Securing tenants
Tenancy agreements & bonds
Dealing with difficult tenants
Maintaining a rental property
Maximising rental income
Choosing a property manager or DIY
Selling a rental property.
And much, much more.