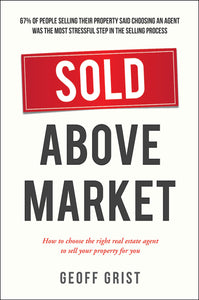 Sold Above Market
by Geoff Grist
9780994256034
Regular price $29.99 Sale
For most people their home is their biggest financial asset. Add to this that moving house is regarded as the third most stressful thing that happens in life (behind the death of a loved one and going through a divorce) and you see why the decision to sell a property is not taken lightly.
67% of people selling their property said choosing an agent was the most stressful step in the selling process. You need someone who will support you throughout the process, do the very best job in the shortest period of time and sell 'above' market.
Author Geoff Grist has spent more than a decade selling residential real estate on Sydney's lower north shore. Geoff knows that when you are selling a property, the real estate agent you choose will make a huge difference to your final sales price. In his fascinating new book, Sold Above Market, he gives potential vendors all the information they need to make the right choice and understand the whole process of selling property.
Geoff Grist is an entrepreneur, who has sold two businesses over his varied career. He understands the importance of selling for the best possible price. One of his businesses, Audio Sound Centre, won the Telstra NSW Government Award for Best Small Business.  
Also by Geoff Grist: Journey to Sold and Flip for Cash