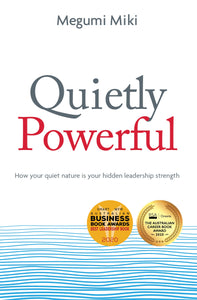 Quietly Powerful
by Megumi Miki
978-0-6485159-5-1
Regular price $29.95 $32.99 Sale
2020 Australian Career Book of the Year
2020 Australian Business Book Awards | Leadership Book of the Year
'Megumi Miki has written a very different leadership book. Too many such books laud the overconfident, noisy leader whose style is always noticeable but not always effective. Megumi has shown that there is another way: that leaders who are quiet, who listen, and who are prepared to reveal their vulnerabilities can be the most effective and powerful. The book deserves a wide audience because there is indeed another way.'
Elizabeth Proust, former chairman of Australian Institute of Company Directors
In the uncertain, changing, global and interconnected world, the 'alpha' or 'hero' leadership style alone is outdated and inadequate. Quieter professionals, who are often overlooked or taken advantage of without recognition, have immense value to contribute to organisations. In this book, Megumi Miki shares her own experience and those of many other quiet professionals who have achieved great success in the business environment.
Megumi believes that a shift in our beliefs about leadership will allow talented quiet professionals to view their quiet nature as a strength and to succeed in their own way, rather than seeing it as a disadvantage. She aims to empower quieter professionals and those outside majority groups to fulfil their potential.
Quietly Powerful challenges quiet professionals to reframe the story they tell themselves about their leadership potential – and encourages organisations to expand their ideas about what good leadership looks, sounds and feels like.