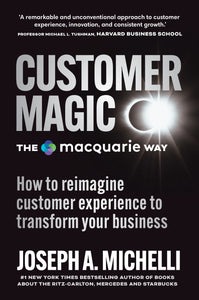 Customer Magic – The Macquarie Way: How to reimagine customer experience to transform your business
by Joseph A. Michelli
9781922611871
Regular price $32.99 Sale
READ AN EXTRACT | BUY THE EBOOK
Published 26th September 2023
FROM #1 NEW YORK TIMES BESTSELLING AUTHOR, JOSEPH A. MICHELLI
Lessons on leveraging world-class customer experience and innovation to grow your business.
It takes a special kind of magic for a challenger brand to achieve seemingly impossible customer-centric results. It's that magic that makes Australian telecommunications company Macquarie Technology world leaders in award-winning customer experience.
Joseph A. Michelli – the bestselling author of books about brands renowned for their stellar service and outstanding growth, such as The Ritz-Carlton, Mercedes-Benz and Starbucks – was so impressed by Macquarie's ability to deliver transformative customer experiences that he felt compelled to write this book.
Customer Magic is a practical, easy-to-read guide that, consistent with Macquarie's commitment to delivering customer value, shares transferrable knowledge on:
identifying customer pain points and develop solutions to remove that pain
crafting a compelling unique value proposition geared to your target market that will create and sustain a customer experience culture
attract, select, grow and retain customer service talent and subject matter expertise
setting, measuring, tracking and incentivising mission-critical business goals and customer-driven growth
innovating solutions that meet your customers' stated and unstated needs
maintain a growth mindset and leave a legacy of business and customer success.
Customer Magic speaks to business owners and team members at all levels, in organisations of all sizes, who want to transform customer experience to drive growth in their own business. This book will inspire, spark action and empower you to make your own brand of magic.
PRAISE FOR CUSTOMER MAGIC
'Joseph A. Michelli crafts another invaluable resource for organisations of all sizes to create repeat business and referrals. Much success to you as you master these powerful lessons and craft your Customer Magic.' Horst Schulze, Co-founder of The Ritz-Carlton Hotel Company and bestselling author of Excellence Wins
'From my roles as a Chief Experience Officer, coach to the C-suite, speaker and author, I know firsthand the importance of creating a human-centric culture. I also know the challenge of executing a strategy that gets the most from your people, process and technology. In Customer Magic, Joseph A. Michelli artfully captures how an Australian technology company creates world-class customer experiences in keeping with the company's purpose – 'to make a difference for markets that are overcharged and underserved'.' Jeanne Bliss, Founder and President of Customer Bliss, Co-founder of the Customer Experience Professionals Association and bestselling author of Chief Customer Officer and Would You Do That to Your Mother?
'Macquarie Technology is an exemplar of customer problem-solving and customer care. Through that unwavering customer focus, Macquarie delivers impressive returns to shareholders. This important book lays bare what superior customer experience requires and how rewarding it is for staff and shareholders as well.' Robert McLean AM, Co-author of The Imperfectionists and Bulletproof Problem Solving, former Dean of the Australian Graduate School of Management and Director Emeritus of McKinsey & Company
'Who would have thought a humble, unconventional Aussie brand had so much magic to share. Michelli has thoroughly and elegantly captured the story of Macquarie Technology in a way that helps leaders and business owners believe in what is seemingly impossible at times. Another brilliant business case unpacked and a dose of inspiration to any business leader or customer experience leader who wishes to succeed in gaining global attention and a competitive advantage.' Jaquie Scammell, Founder and CEO of ServiceQ and author of Service Mindset and Service Habits