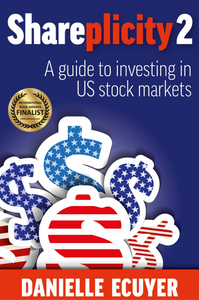 Shareplicity 2: A guide to investing in US stock markets
by Danielle Ecuyer
978-0-6489804-6-9
Regular price $34.99 Sale
'Shareplicity 2 is certainly a great take for investors who want to understand current US markets and, most of all, make money investing in the future.'
Ross Gerber, President and CEO, Gerber Kawasaki, Inc.
2022 International Book Awards Finalist - Personal Finance/Investing
Think of all the runaway business success stories: Google, Facebook, Amazon to name just three. Imagine if you had invested in these stocks when they first listed!
Shareplicity 2 shows how investors can successfully invest in US stocks and ETFs (exchange traded funds), and how they can pick the themes and the trends that will offer the best returns in the 2020s and beyond.
Danielle Ecuyer has been investing in the US stock market for many years and now shares her experience and expertise in Shareplicity 2, the follow up book to her bestselling Shareplicity, which hit book shops in 2020 and has been on the Top 50 Business Book bestseller lists ever since.
Since launching her first book, Danielle has been a regular media commentator, contributor and podcast guest as she shares her simple approach to share market investing. The feedback she has had from readers has been sensational, with 5 star reviews and thank yous on social media.

Shareplicity 2 is a comprehensive and practical book with chapters on:
Ford versus Tesla, the changing of the guard

US stock markets and the major indices

The US now and into the future

Valuing the top 20 US giants

Secular megatrends: part one – an overview

Secular megatrends: part two – growth sectors and stocks

Investing in the US indirectly via ETFs and ESG funds

US stock portfolios

What you need to know

Investing is not a process of perfect..
It is sure to find a huge audience of Shareplicity fans looking to take the next step.
PRAISE FOR SHAREPLICITY 2
'For anyone interested in investment, who wants to understand the markets and what drives them, and how to embark on the task of investing themselves, this is a really worthwhile book.'

Lucy Hughes Turnbull AO


'Taking a dive into megatrends, risk versus reward and strategy, Shareplicity 2 walks readers through the macro influences that will make or break future performance…'
Nadine Blayney, Head of Content/Anchor, ausbiz

'Technology has made it easier than ever to invest overseas, and Danielle's book is the essential guide for all Australians on investing in the world's biggest stock markets.'
Equity Mates

'Danielle starts with the macro picture and then eloquently weaves an easy-to-read and hard-to-put down narrative on how to capitalise on current big-picture themes and sectors.'
Vic Jokovic, CEO, Chi-X Funds
Also by Danielle Ecuyer