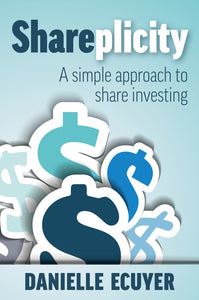 Shareplicity
by Danielle Ecuyer
9780648662693
Regular price $32.99 Sale
Download the first chapter for free
I commend this book as essential reading for all those who seek robust and valuable insights into share investing. Its currency and wisdom make it a unique resource in a market too often overloaded with shallow or outdated advice. 

Dr Roger Collins, Emeritus Professor at the University of NSW

A clean and crisp introduction to our share market which manages to capture both traditional principles of analysis along with the key themes in front of Australian investors today.

James Kirby, Wealth Editor, The Australian

At a time when the investment world seems to be suffering from information overload, Danielle Ecuyer has sorted out what is important and necessary... she is able to present very useful guidance on selecting shares with long-term profit potential.

Martin Roth, author of the bestselling annual publication Top Stocks

 
Danielle Ecuyer has distilled four-decades of global share market experience into this handy guide to investing in the share market. In Shareplicity, she takes the complexity out of share investing, explains concepts simply and in plain English, and provides go-to steps to get started.
With property prices climbing to ever more unaffordable levels and interest on cash in the bank at all-time lows, more and more smart investors are looking at shares. Here's why:
Shares have consistently produced above average long-term performance.

You don't need large sums of money to start investing in shares.

There are no hassles or stress over debt and mortgages, no tenants and no maintenance costs as there are with property investing.

There's potential for capital appreciation and income streams.
Whether you're saving for a deposit, a holiday, the kids' education or a comfortable retirement, share investing offers the flexibility and ease for anyone at any age or stage in life. Shareplicity is a great way to learn!
See also Shareplicity 2 -- A guide to investing in US stock markets.