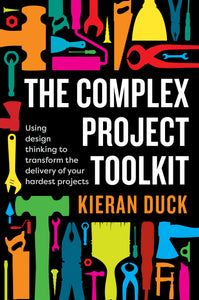 The Complex Project Toolkit
by Kieran Duck
9781922611017
Regular price $32.99 Sale
BUY THE EBOOK | READ AN EXTRACT
A new and innovative guide to complex project management by experienced project manager and business transformation leader, Kieran Duck. 
Project managers are often responsible for big teams and millions (or even billions) of dollars to deliver successful outcomes on time and within budget. But the reality is that most complex projects don't live up to their promise – they often fail, under-deliver or burn everyone out. 
In The Complex Project Toolkit, Kieran Duck argues that is because the normal approach to project management doesn't work when projects are complex.
The traditional emphasis on certainty and predictability comes from an industrial era where the focus was on controlling resources and effort. These days, projects are unpredictable and emergent, and performance relies on the opinions of key stakeholders and team members.
The Complex Project Toolkit provides a way through this. Based on the concepts of design thinking, this comprehensive toolkit adds to existing project management approaches with new mindsets, practices and skills that will lift the performance of your most ambitious projects and improve the experience for everyone involved.