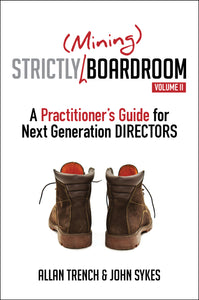 Strictly (Mining) Boardroom II PDF ebook
by Dr Allan Trench & John Sykes
97817442982496
Regular price $34.95 Sale
Purchase a PDF ebook of this title and the link to download the book will be supplied after you have completed the checkout process -- Enjoy!

 

"The authors' chatty style and witty metaphors form a highly entertaining backdrop to their compelling insights into 'real' issues confronting resources industry boards." – Jessica Volich, Resources Sustainability Specialist

"An entertaining dialogue, covering many aspects of the business of mining from the board's perspective." – Alex Atkins, Manager in Risk Advisory at Deloitte Touche Tohmatsu
The first volume of Strictly (Mining) Boardroom was so well received that Dr Allan Trench was easily persuaded to compile a second volume, this time with the help of John Sykes. With the punchy subtitle of 'A Practitioner's Guide for Next Generation Directors', the new book contains a comprehensive set of information and insights for current and future industry decision-makers, delivered in a refreshing easy-to-read style. 
The range of topics covered include:
mining excellence, innovation and future thinking
exploration and mineral economics
team-working and gender balance
mining and economic development
political risk, the downturn
and much, much more.
Also by Dr Allan Trench: Strictly Mining Boardroom, A Sharebuyer's Guide to Investing in the Australian Mining Boom, Australia's Next Top Mining Shares, The MBA Mindset and The MBA Advantage